The level editor is a function of Geometry Dash. It enables the player to create their own levels that can be shared with other people online, with the ability to build levels and share them with other players through an organized online system.
Overview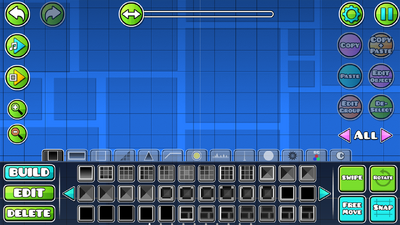 The level editor can be used in the full version. The standard soundtracks can be used for the levels, but you can also include soundtracks from Newgrounds .
The editor itself consists of an area with a grid in the middle, in which the actual level is built. Below in the middle the blocks and decorations are selected. In total, there are approximately 1100 buildable objects in Geometry Dash. On the right and left side of the editor are the many building and editing tools.
A maximum of 80,000 objects can be built in the editor. The editor also offers many options to adjust the details to your taste, for example 3D blocks, color transitions, any coloration and many effects are possible. A background and a floor can be selected.
Helpful information
A level can only be verified if it is completed in normal mode, collecting all user coins if they are included, and that the level does not contain a starting position.
The lengths are determined as follows:

very short: 1-9 seconds (contains copied Lebvels until editing).
In short: 10-29 seconds.
Medium: 30-59 seconds.
Long: 60-119 seconds.
XL: 120+ seconds.
Level components and objects
Blocks – contains achromatic, monochromatic and dichromatic; with outline or without outline.
Platforms – includes achromatic, monochromatic, and dichromatic; with outline or without outline.
Outlines – for horizontal, platform, and sloping blocks.
Slopes – includes achromatic, monochromatic and dichromatic; with outline or without outline.
Stationary dangers – spikes and thorns. Contains false spikes.
3D decorations – floor plan and 3D versions of blocks.
Interactive objects – vans, portals , speed portals , animated objects, collectibles and texts.
Floor decorations.
Air-based decorations.
Pulsating decorations.
Rotating objects – includes saws and rotating decorations.
Trigger
Custom objects
Development of the objects
Before the 1.9 update, it contained 10,000 objects.
As of update 1.9, it contained 15,000 objects.
As of update 1,921, it held 20,000.
For update 2.0 it contained 30,000 objects that are not authorized to edit user levels with more than 30,000 objects. Therefore, a message is displayed stating that you cannot insert more than 30,000 objects.
For Update 2.1 it included 40,000 objects that are allowed to edit user levels that contain more than 30,000 objects in Update 2.0, such as Terron Resuscitation. High object capacity has been added and increased to 80,000. This prevents players from placing too many objects on a level, although this is often circumvented with hacking.
Tips for building
There are very, very many levels uploaded to Geometry Dash. In order for a level to be known, it has to stand out from the crowd. To do this, here are some tips: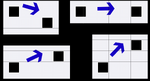 There are 4 "basic jumps". Try to use jumps that are similar to these. Many other jumps, when combined with others, are very unbalanced and the level is not fun.
basic decorationIn addition, there should always be some design elements. It is not so important to bring them in creatively, it is also sufficient if a rotating object simply circles a jump pad or an orb. If necessary, you can also add 3D effects or glow, this is not difficult and looks very nice.
The background and the floor should also be changed; the default setting looks boring and is used too often
It is very important: The level should match the music! That means: some jumps have to be done in time with the music or if the music should change also in the level what happens, e.g. the vehicle and the background color changes (like the first flight passage in Stereo Madness ).
The level must not be too short or too easy. Sometimes it's difficult to build a long level, but Medium should already be in it. And everyone wants a challenge, but be careful not to make the level too difficult, because otherwise many people would drop out of the level too early. To do that, you just have to test often.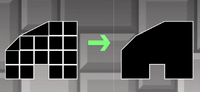 There are many things that are not noticeable individually, but do not make the level look so good in the overall package. When building blocks together, you often only use one block shape at a time. It doesn't take long to use the other blocks to avoid creating a "mesh". This can be seen again in the picture.
Trivia
In order to be able to upload a level you have to verify it first. If you have built in usercoins, these have to be verified.

In version 1.0 it was still possible to verify a level in practice mode, but with 1.1 this function was removed. 

When the player clicks the Help button on the custom music screen, there is a sample ID (568699) that is actually the song ID for Waterflame's "Hexagon Force".
In Update 2.1 the color channels 1000 to 1006 and 1009 are reserved for BG, Ground, Line, 3DL, Objekt, Player Color 1, Player Color 2 and Ground 2 and cannot be used normally. This was fixed in Update 2.11 where the number of color channels was set to 999.
In the Beta 2.1 editor, all color triggers (BG, Ground, Ground2, Line, 3DL, Obj) were merged into one color trigger, but in old levels there are separate color triggers.
RobTop changed the Newgrounds policy for Geometry Dash to prevent players from uploading stolen music. Further information can be found here . https://www.e-slots.info/geometry-dash-mega-hack-v6-pro-2-113-steam-paid/
In version 1.9, the Geometry Dash editor had five buttons: Copy, Paste, Copy and Paste, Edit Object, and Deselect. However, in the Geometry Dash Steam trailer, an editor appears with 4 buttons: Copy and Paste, Edit Object, Deselect, and Edit Group.

The Edit Group button wasn't introduced until Update 2.0, which indicates that the version of Geometry Dash used in the Steam trailer was a development version.
In update 2.0 there was an error when making an unnamed 9999 lvl. If you did another one after that, it would say Unnnamed 0-1, which is interesting since the hyphen symbol cannot be entered in the search or level names.

In dual mode, if the player crashes one of the two symbols, the first will stop while the other continues.
There is no option available to start the level under the effects of the mirror portal. However, you can do that by placing a mirror portal at the very beginning of the level.